Let's JMP – Part 2: ESXi & vCenter
In this part I will guide you through the steps for installing and configuring a basic ESXi and vCenter appliance environment. As you may have already noticed in the introduction, I already have my ESXi and vCenter environment up and running. However, for those of you that want to have the steps provided for installing and configuring ESXi and vCenter, you came to the right place.
I will use VMware Workstation for the installation of a nested ESXi and vCenter environment. That's easier to create all the screen shots . The steps for installing ESXi may involve injecting suitable drivers for your own LAB server, but the installation is pretty much the same. I used this article for preparing my LAB server for ESXi installation. I didn't manage to successfully install ESXi 6.5 directly on my LAB server. It failed at boot after the installation. So instead, I installed ESXi 6.0 and did an upgrade to 6.5 afterwards.
If you plan to use a nested installation, in which you plan to host the vCenter appliance on the nested ESXi host, make sure you assign the VM for ESXi enough memory for the vCenter appliance. 12GB minimum.
Overview
The components with a red square are installed and configured in this part.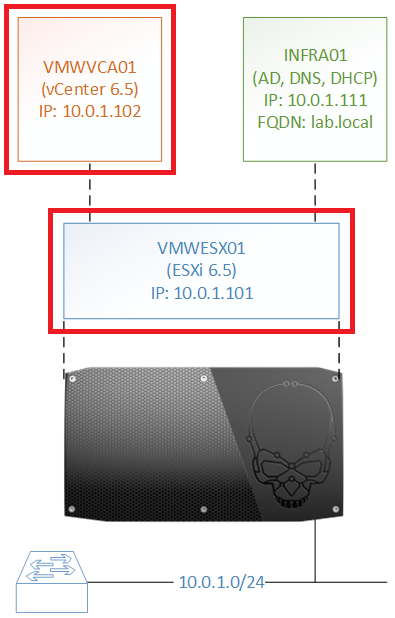 Installing and Configuring ESXi
| | |
| --- | --- |
| Select ESXi-6.5.0-20170104001-standard Installer and press [Enter] | |
| Press [Enter] to continue | |
| Press [F11] to accept and continue | |
| Select the disk on which you want to install ESXi and press [Enter] | |
| If you already have a VMFS disk, select your preferred option and press [Enter] | |
| Select your preferred keyboard layout and press [Enter] | |
| Enter your preferred root password twice and press [Enter] | |
| Press [F11] to begin the installation | |
| Remove the installation media and press [Enter] | |
| Press [F2] | |
| Enter your Login Name and Password and press [Enter] | |
| Select Configure Management Network and press [Enter] | |
| Select IPv4 Configuration and press [Enter] | |
| Select Set static IPv4 address and network configuration and enter the IPv4 Address, Subnet Mask and Default Gateway and press [Enter] | |
| Press [Esc] | |
| Press [Y] | |
| Press [Esc] to Log Out | |
Installing and Configuring vCenter Appliance
I choose to install the vCenter appliance from my Windows desktop by mounting the ISO file

Double click the ISO file to have it mounted as a DVD drive

Open the folder vcsa-ui-installer
Open the folder win32
Double click installer.exe
Click Install
Click Next
Select I accept the terms of the license agreement and click Next
Select vCenter with an Embedded Platform Services Controller and click Next
Enter the IP address 10.0.1.101 for the ESXi host or vCenter Server name

Leave the default HTTPS port

Enter the User name and Password for the ESXi host and click Next

Click Yes
Enter vCenter as the VM name, and enter the Root password and Confirm root password and click Next
Leave the defaults and click Next
 
Select the datastore that you want to use for storing the vCenter appliance

Select Enable
Thin Disk Mode if you want to use it and click Next

Enter 10.0.1.102 as the IP address for the vCenter appliance

Enter 255.255.255.0 as the Subnet mask or prefix length

Enter 10.0.1.1 as the Default gateway

Enter 10.0.1.1 as the DNS server and click Next

Click Finish
The vCenter appliance is being deployed
Stage 1 has completed

Click Continue

 
Click Next
Select Synchronize time with the ESXi host and click Next
Enter vsphere.local for the SSO domain name

Enter the SSO password and Confirm password

Enter default-site for the Site name and click Next

Select if you want to Join the VMware's Customer Experience Improvement Program (CEIP) and click Next
Click Finish
Click OK
The vCenter appliance is being setup
Stage 2 has completed

Click Close
Create the Datacenter & Cluster
Use your favorite browser and open https://vmwvca01.home
Click vSphere Client (HTML5) – partial functionality
Enter User name and Password and click Login
Right click 10.0.1.102 and click New Datacenter
Leave the defaults and click OK
Right click Datacenter and click New Cluster
Enter Cluster for the Name and leave the other defaults and click OK
Right click Datacenter à Cluster and click Add Host
 
Enter 10.0.1.101 for the Host name or IP address and click Next
Enter User name and Password and click Next
Click Yes
Click Next
Select the correct (evaluation) license and click Next
Leave the defaults and click Next
Click Finish
After some time the Add host task should be completed
NextUp >> Let's JMP – Part 3: Horizon