Let's JMP – Part 6: Windows 10 Image
In this part I will guide you through the steps for optimizing Windows 10 and the installation of all the required agents.
Overview
The component with a red square is installed and configured in this part.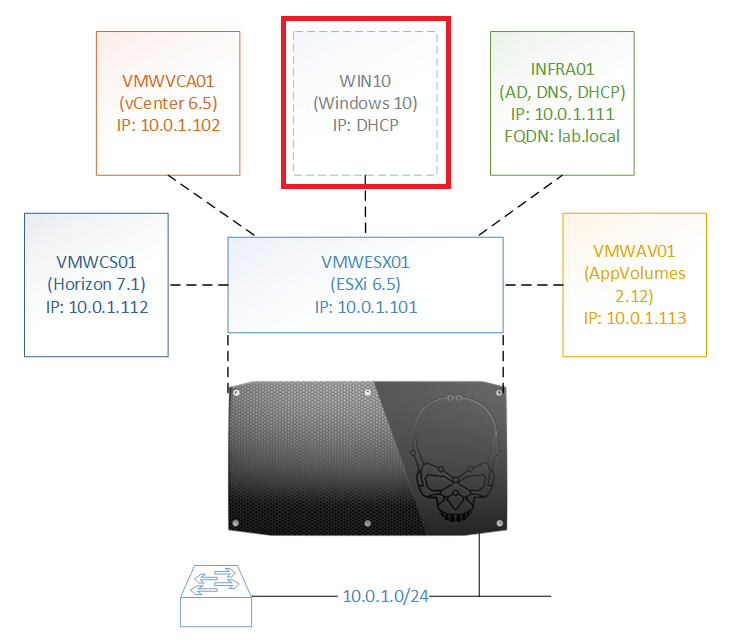 Assumptions
I assume you have Windows 10 running with VMware Tools installed and joined to the domain.
Optimizing Windows 10
I am going to use VMware's OS Optimization Tool (OSOT) for optimizing Windows 10 for VDI

You can download this tool [here](https://labs.vmware.com/flings/vmware-os-optimization-tool).

Start the OSOT tool

If you receive a User Account Control message, click Yes
Select VMware\Windows 10 – LoginVSI.com for Template and click Analyze
 
Click Optimize
The optimizations are being applied
Once finished, close OSOT and reboot Windows 10
Installing and configuring Horizon Agent
| | |
| --- | --- |
| Double click VMware-viewagent-x86_64-7.1.0-5170901.exe | |
| If you receive a User Account Control message, click Yes | |
| Click Next | |
| Select I accept the terms in the license agreement and click Next | |
| Leave the defaults and click Next | |
| Disable VMware Horizon View Composer and enable VMware Horizon Instant Clone and click Next | |
| Leave the defaults and click Next | |
| Click Install | |
| Click Finish | |
| Click Yes | |
Installing and configuring App Volumes Agent
Double click setup.exe
If you receive a User Account Control message, click Yes
Click Next
Select I accept the terms in the license agreement and click Next
Select Install App Volumes Agent and click Next
Click Next
Type VMWAV01.lab.local for App Volumes Manager Address

Enable Disable Certificate Validation with App Volumes Manager and click Next

Click Install
Click Finish
Click Yes
Installing and configuring UEM FlexEngine Agent
| | |
| --- | --- |
| Double click VMware User Environment Manager 9.1 x64.msi | |
| Click Next | |
| Select I accept the terms in the License Agreement and click Next | |
| Click Next | |
| Click Typical | |
| Click Next | |
| Click Install | |
| If you receive a User Account Control message, click Yes | |
| Click Finish | |