VMworld Europe 2019: My Personal Recap
On 4 November 2019, it was that time of the year again. VMworld Europe in Barcelona. Again, this year my employer, Login Consultants, gave me the opportunity to travel to the south of Europe for this amazing event, for the third time in a row.
A couple of weeks ago I already looked forward to going to VMworld. It is a great place to meet people you know, competition colleagues, but also new people. So, it's not just a technical and business event, but also a social event. This makes it extra fun in my opinion.
This blog post describes some of the sessions/workshops I attended at VMworld. For a full list of sessions, including previous years, have a look here (login required).
Day 0:
My employer arranged a flight and hotel on Sunday, which gave me the opportunity to acclimatize to the weather, the city, and the food 😉
In the evening the vRockstar event took place. This is the yearly returning pre-VMworld event, which is a great place to have your first meet-ups with other VMworld visitors.
Day 1:
VCDX Workshop
On Monday, I had to get up early. I subscribed to a four hours VCDX workshop at the Porta Fira Hotel, which was given by Joe Silvagi from VMware.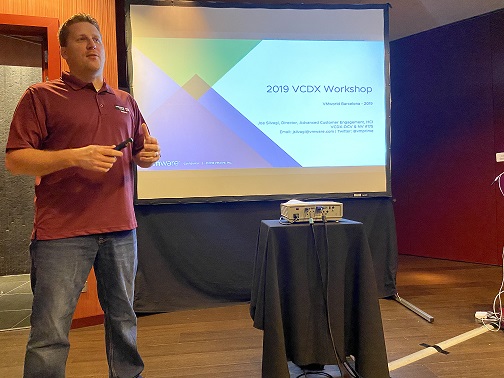 As I pursue the VCDX certification, this was a great workshop to get and learn insights regarding this certification and how to prepare for it. The VCDX certification verifies your architecting skills. Writing skills, listening skills, presentation skills, dedication. These are just a couple of important things you have to master to go for that VCDX certification. I think the most important message from the panelists and VCDX's was, "we are there to help you pass". This means that they want to help you pass by giving you questions, which, by interpreting, answering, or acting correctly can help you pass. And don't forget that saying I don't know isn't necessarily wrong. As long as you don't say that too much 😉 . For me, this session gave me even more confidence to just go for it!!
Badge Pickup
After attending the VCDX workshop, I took a short walk to the VMworld venue at Fira Barcelona Gran Via and walked straight to the Badge Pickup desk. Picking up the badge is easy when you use the VMworld mobile app. Simply scan the QR-code, have your badge printed, and pick it up. I was ready to go in one minute.
Supporting Machine Learning and GPU's on VMware vSphere
Sometime it's nice to follow a session that is outside my comfort zone or expertise. So I did. I chose to follow the session, or actually a workshop named Supporting Machine Learning and GPU's on VMware vSphere by Josh Simons and Justin Murray.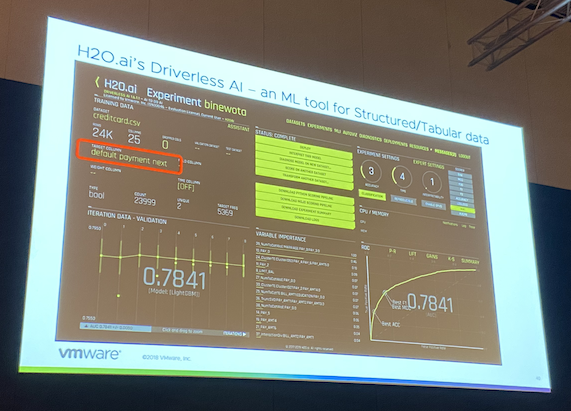 I think it was a nice starting guide for people that are not familiair with machine learning and artificial intelligence, including myself. All the basics were explained before putting some ML in practice by doing an online assignment. There was also an extensive explanation on how to install and configure the GPU's within VMware vSphere.
Day 2:
General Session
The general session on Tuesday was mostly hosted by Pat Gelsinger, where he talks about multi-cloud. Running different applications (traditional, Kubernetes, etc.) on different infrastructures in different locations, VMware believes that mastering multi-cloud is key to owning the next decade. VMware embraces multi-cloud and now supports AWS, Azure, Google Cloud, IBM and Oracle.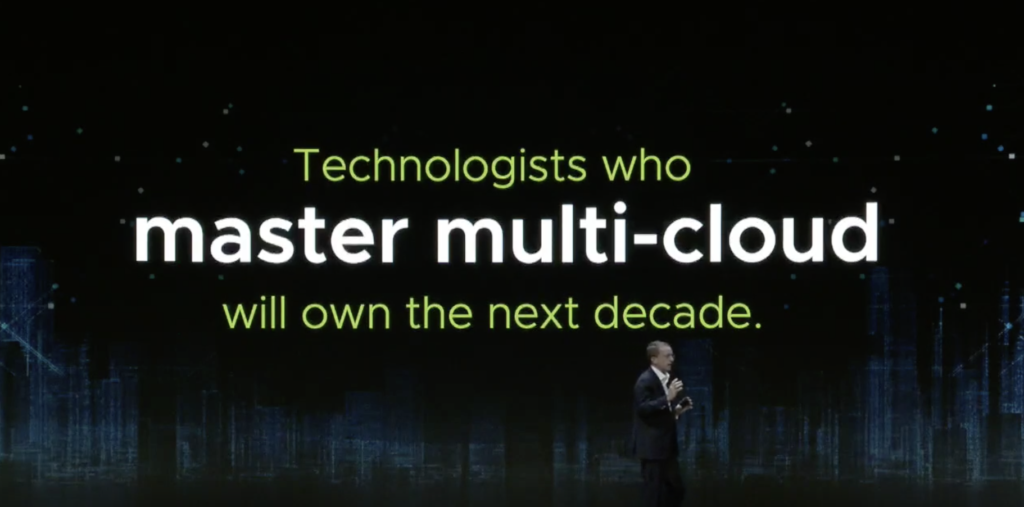 VMware uses the Cloud Foundation initiative to have a standardized and optimized infrastructure for hosting your workloads, both private cloud (on-prem) and public cloud (off-prem).
Moreover, VMware announced three projects regarding their cloud-native initiative:
Project Tanzu Mission Control, for managing Kubernetes in every location from a single control plane.
Project Pacific for building Kubernetes into VMware vSphere as a cluster feature with vSphere.NEXT.
Project Galleon, which is a customized Bitnami enterprise catalog for applications.
Horizon Cloud on Microsoft Azure: Technical Deep Dive
Another session I attended was Horizon Cloud on Microsoft Azure: Technical Deep Dive. In this session some new features in Horizon Cloud on Azure were announced:
Pod Manager High Availability enables two pod manager VM's that are load balanced with a Microsoft Azure load balancer for pod high availability. The pod continues to operate if one pod manager VM experiences an issue, by routing all traffic to the other pod manager VM without manual intervention.
Microsoft Azure – Additional VM Types which now contains more than 200 VM types and sizes. It is now also possible to filter based on type, series, CPU, memory, and tag.
Enhanced Alerting raises certain errors during pod upgrades to the admin, eliminates initial call to VMware support, and the admin can fix the problem and then call VMware to resume upgrade.
Azure Resource Tags can now be created when defining desktop and farm assignments. This useful for third party integrations, like security, billing, and automation.
Enhanced Logging supports logging and auditing in the Horizon Cloud management console, role-based administration, and download logs in CSV format.
Another announcement was the coming availability of Horizon Cloud support for Windows Virtual Desktop (WVD) in Azure. Microsoft is heavily pushing towards WVD in Azure, so it is great the see the coming support from VMware for WVD. Horizon Cloud Service on Microsoft Azure extending Microsoft Windows Virtual Desktop is available in tech preview.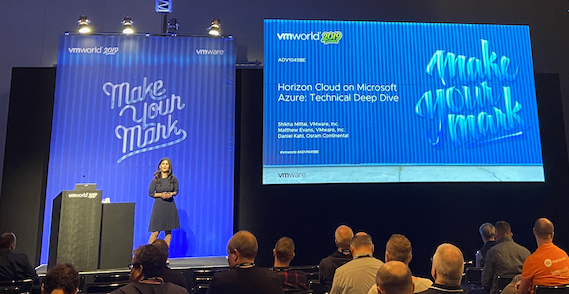 Digital Workspace Keynote
The Digital Workspace Keynote was mostly about digital transformation and digital employee experience. VMware says that attracting and retaining talent is important for most companies, where contribution from day one, choice and flexibility, secure remote access, and no security compromise are keywords to accomplish this and Workspace ONE Intelligent Hub is the solution to enable this.
The following announcements were made regarding Workspace ONE:
Intelligent Hub now has a built-in option to enable corporate communications. An example was made that you can inform employees that the building is on fire, and the employee can report back that he or she is safe.
Intelligent Hub now contains a Virtual Assistent, which for instance can be used to order a new device, select benefits, learn about company culture, search and discover, and self-service.
Physical Security Integration with HID Global built-in to Intelligent Hub with broad compatibility for iOS and Android and existing infrastructures.
Privacy Guard for building privacy trust with employees for accepting and acknowledging policy changes. Works in conjuction with the Chief Privacy Office role.
Support for provisioning and managing spatial computing devices, like Oculus, Pico, Vive.
Risk Analytics where machine learning is leveraged to deliver continuous verification with risk analytics and behaviour.
Next-Gen AV and EDR, Carbon Black.
Moreover, VMware continues to expand Horizon Management Services:
Image Management (Beta).
Application Management (App Packages) (Beta).
Monitoring (GA).
VMware Cloud on AWS (DaaS) (Planned).
Windows Virtual Desktop (WVD) support.
Day 3:
Live Demo – macOS Management from Zero to ONE
I followed this session to get more familiar with provisioning, configuration and management options for Mac devices using Workspace ONE. The session was set up to provide an overview of the Workspace ONE console and how to configure macOS from scratch. It was a fun session to attend because it was different from other sessions where you normally just look at a slide deck and listen to the presenter. In this case, it was interactive and live and therefore gave me a better or more clear idea on how to set up macOS management with Workspace ONE. I will definitely use this knowledge to test in my own TestDrive environment.
Troubleshooting Your Horizon 7 Deployment
In my day-2-day job I work in a lot of customer environments where VMware Horizon is implemented. Troubleshooting and optimizing those environments is also part of that. This session was all about giving you information and tools to help you troubleshoot a Horizon 7 deployment. Most things weren't necessarily new, but I also learned some new stuff, like interpreting certain log files and troubleshooting certain cloning issues.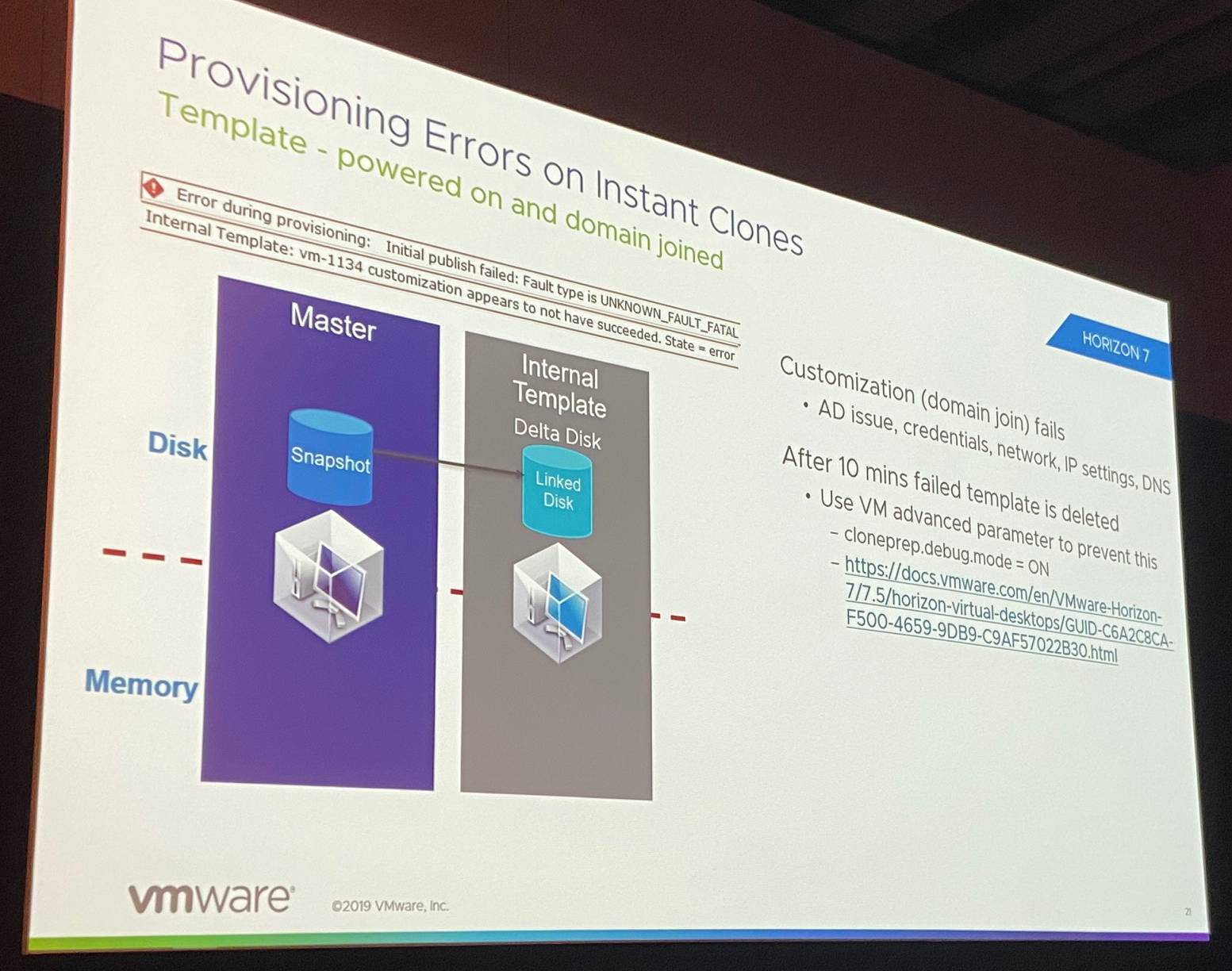 The Latest and Greatest with VMware Blast Extreme
This session was all about the (newest) features of Blast Extreme and how to configure and tune it, including some useful tools. Blast has feature parity with PCoIP when using the correct Horizon and Horizon Client version, which is Horizon 7.1 and Horizon Client 4.4 onwards.
Blast has multiple codecs for different use cases, JPEG/PNG, H.264, and H.265, and from Horizon 7.10 also a new adaptive codec that replaces the JPEG/PNG codec. This adaptive codec enhances the non-H.264/HEVC path, saves more bandwidth compared to JPEG/PNG, better text and image quality and optimizes quality and bandwidth consumption on mixed video/text screens.
All of these codecs can be tuned depending on the use case. Think about lossless and lossy compression, depending on the required quality. Blast can be tuned by using the group policies (Horizon GPO Bundle), the registry, or directly on the deployed virtual desktop. VMware also announced the Blast Extreme Optimization Guide, which will be coming out soon.
Microsoft Teams and Zoom Optimization Packs are now in beta. Where the Microsoft Teams Optimization Pack (audio) is available for Windows, Mac, and Linux Clients and the Zoom Optimization Pack (audio/video) is available for Windows clients.
Also, real-time audio/video (RTAV) is now also supported in a multi-hop scenario. For instance, when running published applications from a VDI desktop.
Some useful tools for troubleshooting and tuning Blast are Remote Display Analyzer and Horizon Performance Tracker.
Day 4:
I had my last session VMware Skyline – Proactive Support, Beyond Break/Fix planned on Thursday morning. But unfortunately, I experienced a crash with a bus hitting the taxi I was sitting in. One damaged side and mirror, two drivers arguing, and eventually getting a different taxi resulted in me being too late for the session. But fortunately, no one was hurt.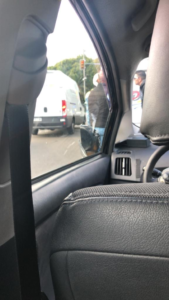 So instead, I decided to visit the Solutions Exchange and visit some interesting booths and smaller sessions before heading to the airport.
This was another great VMworld with lots of interesting sessions and social opportunities, and I hope to be back next year.